West Coast Winter Mega-Event
Hosted by Arizona State University
December 15th, 2018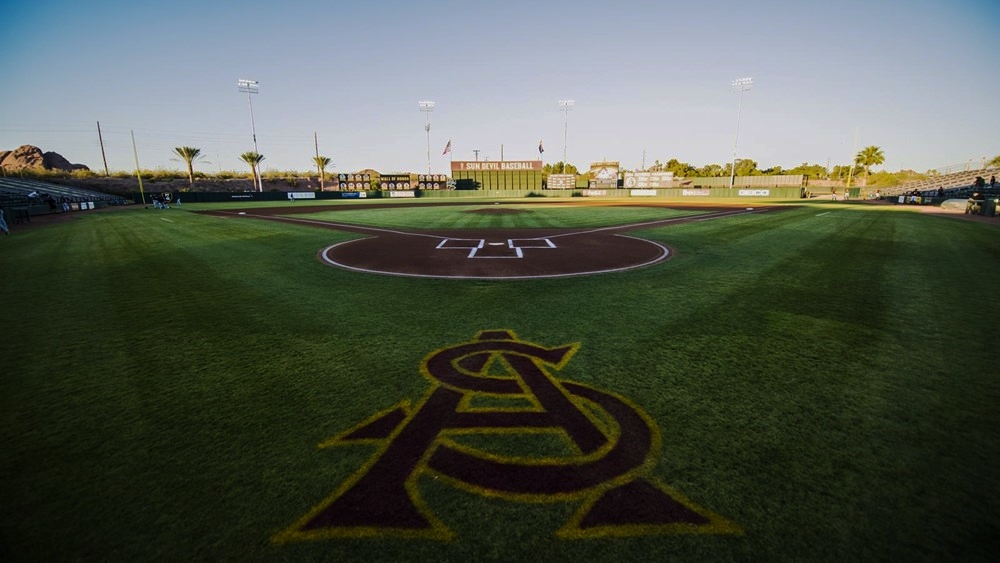 WHAT MAKES THIS EVENT THE LARGEST WINTER EVENT IN THE COUNTRY?
What's Included & What to Expect
• Date: December 15th, 2018
• Location: Phoenix Municipal Stadium - Phoenix, Arizona
• Day Activites: Workout Session, Recruiting Seminar & Live Game!
• Video Profile: Personal Recruiting Page for each athlete including video from morning workout!
• 1 on 1 Time with Multiple Colleges & Pro Scouts
• Stalker Radar Gun Readings
• Recruiting Seminar & Recruiting Resources
• Warmups, Defense, Games Instructed by Current College Coaches & Pro Scouts!
• Tour of ASU's Locker Room and Facilities
College Coaches Attending
Full Pitcher Workshop led by the Elite Velocity Program
ASU Coaching Staff
Professional Scout from the New York Yankees
Professional Scout from the Boston Red Sox
Professional Sox from the Washington Nationals
Michael Earley - Arizona State University
Barrett Weaver - Bethany College
David Robles - Citrus College
Cole Mahoney-Bruer - Ventura College
Mark Carvalho - Friends University
Chris Langan - Felician University
Patrick Jolley - Centenary College
Dan Padilla - South Mountain CC
Doug Rose - Mesa CC
Brandon Sanchez - Camden County College
Matthew Hill - Dixie State University
Barrett Weaver - Bethany College
Brett Merritt - ENMU
Geoff Fox- Chapman University
mikey nantze - Willamette University
Ricky Walker - Barstow Community College
Paul Koss - Colorado Christian University
Chad Miller - Midland University
Drew Lacomb - Regis University
Travel & Accommodations
Where Does The Showcase Take Place?
The Best in the West Winter Mega-Event is held at incredible Phoenix Municipal Stadium, home of the Arizona State SunDevils. The exact address for the event is: 5999 E Van Buren St, Phoenix, AZ 85008
Are there hotels nearby?
Certainly! The DoubleTree Suites by Hilton Hotel Phoenix is located at 320 N 44th St, Phoenix, AZ 85008 is a quick five minute drive to the stadium!
I'm flying to get to the event, where it the closest airport?
The largest airport is Phoenix Sky Harbor International in downtown Phoenix. This airport is roughly 15 minutes from the stadium!
ARRIVAL TIME & CHECK-IN
Players should plan to arrive for check-in between 7:00 and 7:30am the day of the event. All players will be checked in and given a numbered jersey to wear during the event.
TYPICAL SCHEDULE
The morning session for Fall events typically includes physical assessments, offensive and defensive showcases and objective measurements (including 60-yard dash and exit velocity), recruiting roadmap seminar, live batting practice.
Each player will play one 2.5 hour simulated game coaches by college coaches in the dugouts. The game times are typically 12pm, 2pm, and 4pm and we have each team show up one hour before their game time for warm ups. We do our best to accommodate player's travel schedules.
What is the NCAA Dead Period?
The NCAA Dead period is a recruiting time in which Division 1 schools can not leave their campus to recruit players. Thus, off-campus showcase events are illegal for major programs.
WHAT Does a fall 1 day event look like?
Our Fall & Winter events consist of ALL of the same things you'd receive in a traditional summer event.. all packed into one day!
A full 5 hour showcase workout & recruiting seminar plus a full game in the afternoon! This day includes a warmup led by a college coach, full defensive drill set led by college coach, and hitting/pitching sessions where you are evaluated by all coaches..
Pricing & Packages
Prices are laid out on our Registration Page, but are as follows:
Pitcher Only: $299
Position Player: $449
Position Player + Pitcher: $549
CANCELLATION POLICY
During the registration process you will have the option to purchase event insurance. This is through a third party and they will reimburse you incase you can't attend the event. If this insurance is not purchased, we have a full no-refund policy.
For full booking terms and conditions please click here.